Exploring 'Venice of the East'
By Elsa Lycias Joel
Alleppey as my weekend getaway had no reasons except another trip with my bosom buddy Navina. Throughout my train journey I was wondering how a flood ravaged place would have anything good to offer.
Next morning, I woke up to "Chaaaiiiiiii"- typical Indian railways alarm which can't be snoozed, forget disabling them.
A home away from home!
The opened gates of Bowgain Villa, Heritage home of the Johnson family where we planned our three night stay at Alleppey welcomed us. Holding two glasses in hand, Nibu our caretaker said, "Tender coconut with honey will always be there to welcome you home". The fragrant garden blooms, neatly pruned trees and hanging brass oil lamps signified goodwill. Ocean room minus the ocean view with a king size bed, ocean themed bed sheets, curtains, towels, doormats and a handmade lighthouse seemed to make me lazier. The powder room resonated with beautiful thoughts of beautiful women.
Tranquil backwaters
After an authentic Kerala lunch, it was time for a Shikara cruise through the backwaters. Shaji Chetan, the boat operator explained 'life in Alleppey' as such through real short stories in different contexts. He seemed to know all the houses along the banks, people and the type of raft they owned and how each house bounced back after the flood.
Seeing Kuttanad, perhaps the only place in the world where farming is done up to 2 meters below sea level was very special even though I had read about it. Our boatman came across as a well-informed tourist guide. How effortlessly he mentioned the name Curzon who called Alleppey the "Venice of the East" and he cared to know about Holland because Kuttanad is known as the 'Holland of the East'?
Being a Chennaite I was in shock to not find a carry bag or disposed cup in the waters that say much about the diligence of the people who inhabit the villages of Alleppey, Ambalapuzha and Kuttand.
A stop over at Kuppapuram to give Shaji a break, tender coconut to quench our thirst and an ordeal with a stubborn Hawk refreshed my senses.
Shaji chetan narrated the Nehru Trophy Boat Race and why it was postponed from second Saturday of August to that weekend. Before I decided I was unlucky to leave the previous day before the "Vallam Kalli" (Boat race) I heard "Vanchipaatu "(Boat song). A Chundan Vallam (Snake boat) with "Payippadan Chundan" written on it sped by. Getting on my toes to encourage their practice session paid off with acknowledging smiles from rowers that prompted me to pray for their victory in the forthcoming race. Trust me, the most wanted view of a best backwater village tour are those scattered boathouses on the vast expanse of waters.
Day to day life in the backwaters
Women and men rowing past a kothumbu vallam (tiny country raft) to the nearby provision stores at the other end of the canal or to a neighbour's house had a smile, a wave or a kind word to share. Punnamada Lake led us to Vembanad where the sound of the slicing waters was replaced by the chitter chatter of school children who walked the narrow banks effortlessly. Sensing my anxious looks, Nibu said," born by the waters, swimming is a birth right". Before I could dismiss Nibu's statement that it's but natural for natives to boast of their innate survival skills, I saw a small boy with a school bag rowing effortlessly across. That kid's shy smile revealed his not- fully- erupted central incisors. He should be hardly 7 years old.
A floating dispensary, said to be an innovative step of the National Rural Health Mission Kerala allayed my other concerns. The boatman's brotherly love that added energy and excitement to our 3 hour tour made our 'goodbyes' so difficult that we exchanged phone numbers.
Old Pier!
Piping hot 'Pazhamporis' (Banana Fritters) and tea at Alleppey Beach was first in my itinerary. Imagining an incredibly busy and noisy port with ships, goods and people till I polished off the last Pazhampori was enjoyable. Then did I shift my gaze from the wrecked remains of the 137 years old Alleppey Sea Bridge to my plate.
Stories old and gold
Deepam (Lamp) lit dinner awaited us at Bowgain Villa. It tasted heavenly with Maria Dolly's stories of many a kind.
Framed family photos on walls told stories of people who lived good lives in this 5 generation ancestral house. Navina's memories of this house where she spent her childhood were vivid. The way she explained every photo, her favourite doll, family tree painted on the wall with photos hung on branches, huge glass and bronze jars her grandfather used to prepare medicines, wall hangings, and furniture gave me too an intense sense of home, especially the wooden staircase which is so typical of any house of the past. A walk through the corridor led into the century old kitchen, the main hub of Bowgain Villa was déjà vu. In the kitchen Nibu turned a seasoned chef just as he turned an expert driver behind wheels, a tour guide in tourist places, an enthusiastic photographer when need be, a bodyguard in his own right safeguarding us and our DSLR when we explored unknown territories.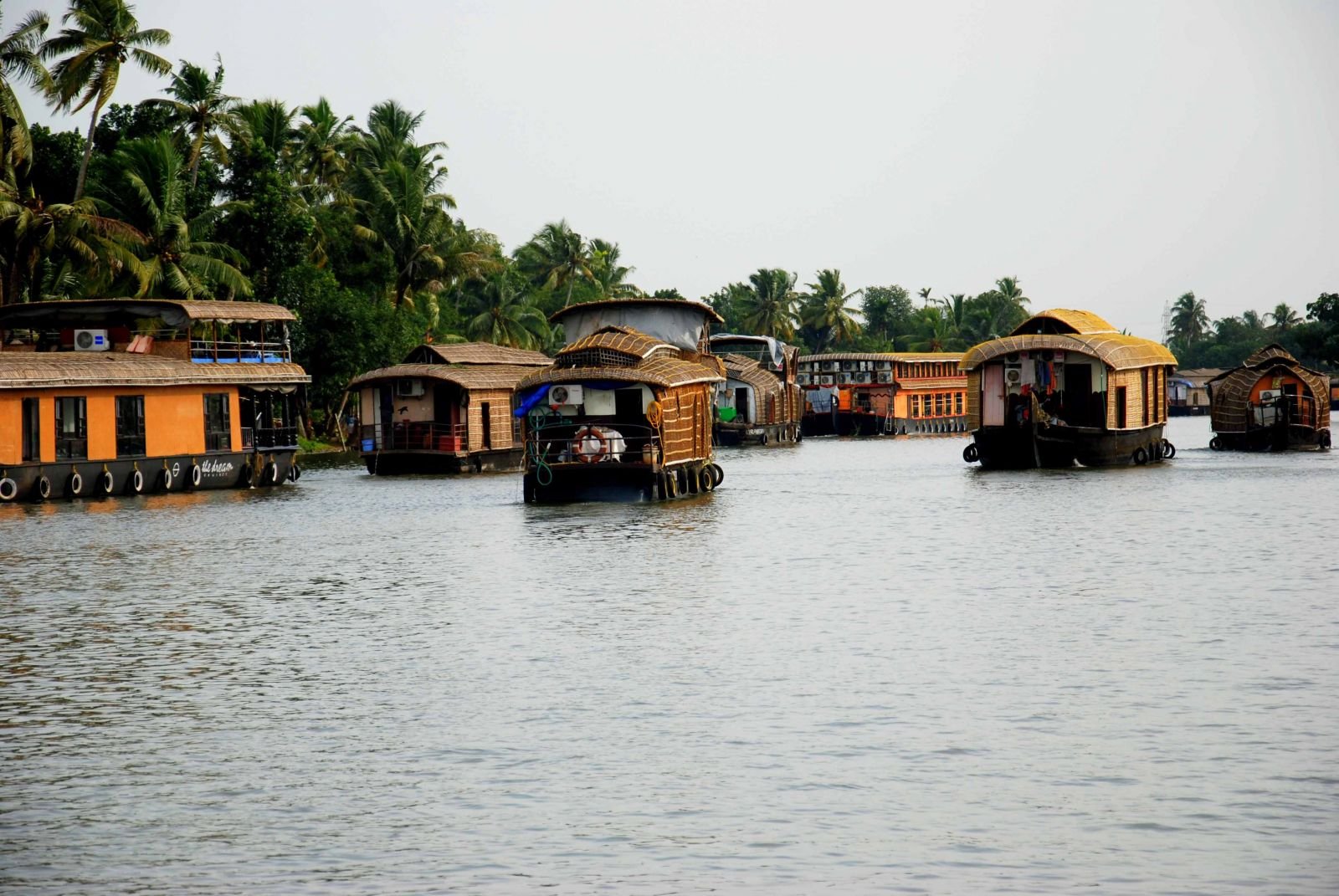 Inviting Shrines and majestic cathedrals
Dolly's stories of 'lost and found' stuff motivated us to take a 5 minute walk to St. Antony's miraculous shrine. One candle was all I had for all women of my maternal lineage who are known for misplacing or losing stuff. An urge to explore Mount Carmel Cathedral that stood majestic just across the road set in. Octagon shaped baptismal font inside held my attention for a while. Saying yes to Dolly's enthusiastic request to pay a visit to the cemetery, also as a gratitude to all her wonderful testimonies wasn't difficult. I saw a well-lit, clean cemetery with plaques on either side of the compound walls that described great events in the Bible. Veneration for the saints as well as 'The Blessed' were visibly written on visitors' faces.
On the second day, consistent ringing of a church bell woke us up. The sun shone bright and hot. It was late and we had to skip the 'Puttu and Kadala curry' (steamed rice flour and chickpea curry) that we badly wanted to have at Avees Puttu House, Alleppey. We grabbed a dozen of home grown plantains and set out. En route to Basilica of St. Mary, Champakulam, we encountered a traffic jam reason being a horde of people stopping by, dropped at or picked up from Kreupasanam Marian Retreat Centre. A chat with a few pilgrims and devotees enlightened me about the purpose and role of this centre, also a National Heritage Study Centre. Miracles spread the good news far and wide. As for me, lighting a candle at pilgrim centres is a task as I can't ignore other candles that flicker and die.
Enchanting Pottery!
Seated inside a speeding car, a road side pottery shop caught our attention. We pulled over for a quick glance. But I couldn't take my eyes and hands off the clay wind chimes for the entire five minutes or so telling myself that I must carry with me a bigger bag next time.
St. Mary's Forane Church
This church houses everything that fosters any visitor's prayerful life by evoking feelings of transcendence and devotion. Places of worship were clean, irrespective of the number of visitors. Yes, we all learnt it right, 'Cleanliness is Godliness'. The inscriptions on the Champakulam open air Rock Cross is a clear documentation of its antiquity up to AD 1151.
A paradise by the beach!
Our hungry stomachs growled for a grand buffet leading us to Marari Beach Resort. All waiters sported a goatee with a moustache except Hari who chose to do it a bit differently without a stache. On request, they politely posed for a photo fighting back their pearly smiles to look tough. The butterfly garden enticed me, the organic vegetable garden beckoned me and the small dairy farm surprised me. I knew why the resort made me feel that way.
A prized story of harmony
St. Andrew's Basilica of Arthunkal was our next stop. Being the largest shrine of St. Sebastian in the world housing a statue of St. Sebastian with arrows all over his bleeding body, sculpted in Milan, it was a must-see. It seems the local Hindus helped Jesuits construct the church in 1560. After centuries, till today, during the month of January, Hindu pilgrims on their return journey from Sabarimala are known to pay homage to the saint. The forgotten tale of friendship between Father Fenicio and Lord Ayyappa must be retold. Right behind the Arthunkal Basilica stands the old church near the altar of which is the tomb of Father Fenicio, an Italian by birth, fondly addressed as 'Veluthachan' (Fair skinned father).
In the hope of prasadam and a tusker
The 500 years old Mullakkal Rajarajeswari Temple, an imposing temple in the heart of Alleppey was built by King Devanarayana dedicated to Sree Rajarajeswari, stands as a reminder of the architectural brilliance of craftsman of those days. Not only the urad dal vada we missed Balakrishnan, the temple elephant too. Few natives were surprised as to why we were there in the middle of nothing. When we got talking we were told not to miss the Navrathri or Mullakkal Chirappu Festival.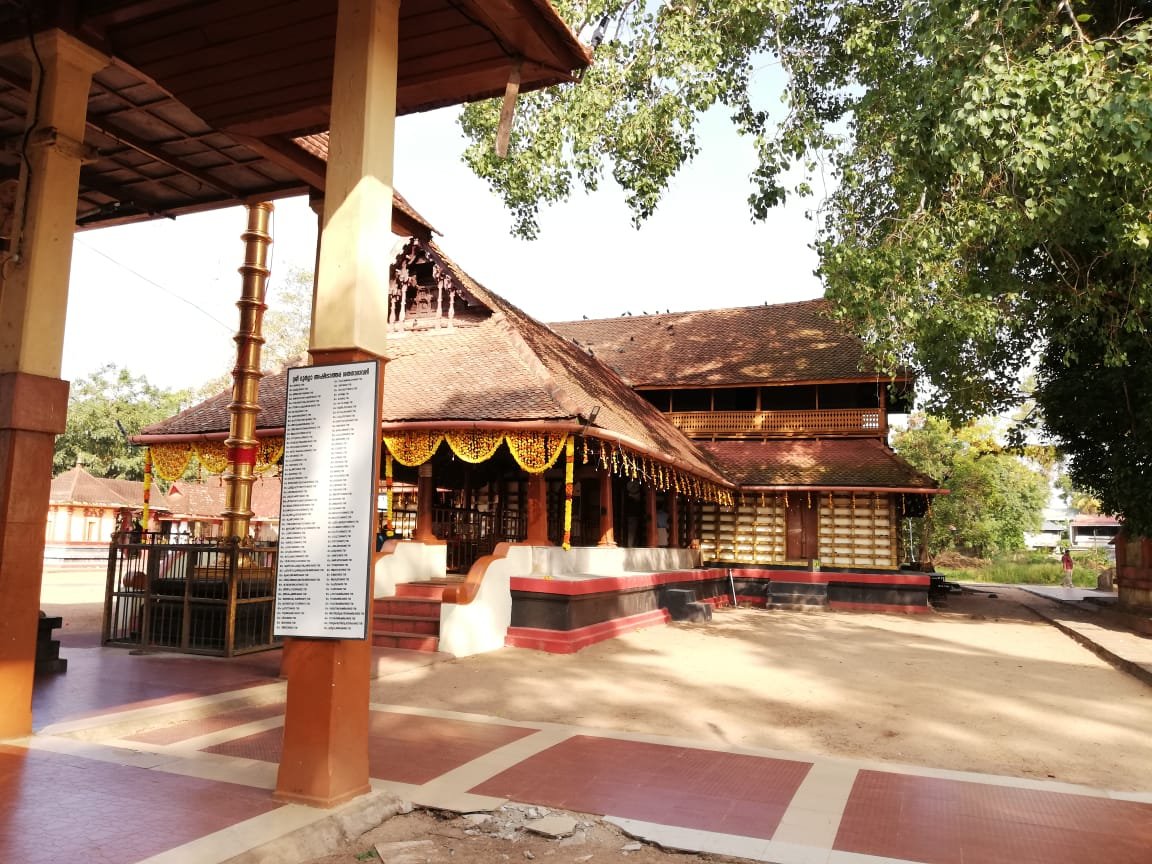 All about Beach Vibes
It was mandatory to watch the sunset in some beach. At the Marari beach, after a freaking awesome stroll, jog and pull-up bar trial workouts we rested for a bit to watch the sunset.
On invitation we took part in a 30 minutes beach yoga class with Christophe Van Campenhout as our instructor. Patrick Platton made us feel so comfortable by translating every Dutch word of Christophe. The session ended with a special applause for us. I guess we received a full charge of admiration from the whole team for a perfect setu bandha sarvangasana. Meeting Christophe Van Campenhout, owner of Act-wise a Belgium travel company was unexpected. He exactly knows how to give his clients a memorable vacation all around the world. We weren't sure if we were making new friends until Christophe invited us to join the Act-wise Party at the Club House of Marari Beach Resort that night. The DJ in Christophe made everyone dance till they dropped. The party ended with nice words, good byes and Neil Diamond's 'Sweet Caroline'.
Let your light shine!
Hugh Crawford, the European engineer behind Alleppey Light House,a vintage and beautiful structure definitely had something in his mind. Queen of chess! May be Alleppey looked like the queen of the Arabian Sea. The spiral staircase took us to a breath taking view.
A testimony of architecture and paintings
The Kidangamparambu Sree Bhuvaneshwari Temple in Alleppey known for its majestic Rajagopuram (Entrance Tower) has depiction of Krishna Charitram on walls in the form of statues. In a way I refreshed my memory of Kuchipudi which I learnt as a school girl. The deity also called as Bhaktadaasi (maid of devotees) is believed to relieve devotees of their troubles.
Alleppey is a place where religions coexist beautifully. Be it the 'Manava Mythri Sangamam' (convention for friendship in society) or Onam, people come together. The Muslim call to prayer fell on my ears as I walked out barefoot through the entrance tower and minutes later I found myself in Alleppey Juma Masjid. Sadly, I found no one around for a chat.
"A thing of beauty is a joy forever"
We were welcomed by Shri.Jagadish CT in to Revi Karunakaran Memorial Museum, fronted by Greco- Roman columns. He briefed us on the do's and don'ts and the reason why photography isn't allowed inside. A 1946 model steel grey 'Buick Super' exhibited the family's affluence. Inside we made slow progress because our guide, Akbar explained every little thing with all his energy and never ending enthusiasm. A 200 square feet mural created by 4160 man hours using only vegetable dye seemed like an unusual piece of attraction. With an amazing collection of Swarovski crystals, this museum can easily pass off as Swarovski Crystal World, India. The fact that the great mind behind this museum Betty Karunakaran's love for beautiful things began ever since she was 13 years old demonstrated to me how important, enriching, and valuable it is to be exposed to 'things of beauty' at an early age. However, my mind could take home clear images of just three things; the lovers' chair, the penny table and Belgian mirrors- love, wealth & beauty. Widely acclaimed creations of celebrated Israeli sculptor Sam Philipe decorated the museum courtyard.
Magic with coir!
We headed to the International Coir Museum. The word 'coir' being synonymous with Revi Karunakaran as much as with Alleppey, thoughts of the Museum still lingered on. Coir figurines, coir artworks, miniaturized versions of the Seven Wonders of the World and coir installations perfectly reflected the art, culture and social life of Kerala and Keralites. Photography for a nominal fee was an added motivation for us to spend a little more time than we actually planned. Interns at the coir museum were so adept at explaining stuff that they can handle many a kind of visitor who would want to know anything about coir and James Darragh. Seated figurines seemed to be in contemplation about the man with big ideas. In my opinion, Veni, Vidi, Vici suited James Darragh too.
We scuttled through the souvenir shop only to relish the Kerala Thaali on banana leaf and Ada Pradhaman (Kerala Kheer) that awaited us. So! What! I had saved a beautifully framed picture.
We bid Adieu!
Three mesmerizing days in Alleppey made me feel so lucky for I felt belonged at Bowgain Villa. Our courteous caretaker packed our dinner and we our memories. It wasn't late to click a photo with Nibu, light a lamp, swing the tongue of the doorbell and do a dab.
The Chennai Express chugged away. The farther it went the closer I held my memories. Settled on my berth, I told myself I'll get back on the hammock, enjoy the garden in full blooms and have tea and banana fritters in the lush green backyard of Bowgain Villa once again. And many more times.
Back in Chennai, a good news from Shaji pepped me up. Yes, "Payippadan Chundan" won the race.