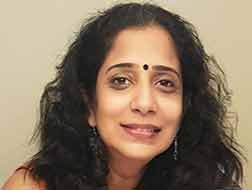 Nandini Valsan is a writer and film maker who currently lives in Doha, Qatar. She is a travel enthusiast and an avid foodie; who believes every moment in life is a learning experience.
Christmas Reminiscences
Christmas was not a time of year I associated with Kerala when growing up. It was only in 2002, when I was well into my twenties, that I had my first feel of the magic of Kerala during Christmas.
It was three weeks before my wedding, and I had arrived in Kochi, all set to live in India for the first time in my life. As we drove from the airport to Irinjalakuda, I was mesmerised by how the otherwise dark roadside had transformed into a galaxy of multi-coloured constellations. Star lanterns seemed to gleam from every household, regardless of the occupants' religious beliefs. I had no idea that the Christmas spirit was so alive in my home state, and always had been.
When my husband and I moved to Kerala two years later, I got an even better sense of this. We experienced for the first time, the revelry surrounding the traditional Christmas carolers that go from house to house, singing carols in Malayalam for all to hear. Bakeries seemed to only stock rich fruit cakes at this time, and we soon became experts at finding the best cake for the season.
But having grown up celebrating Christmas, I really wanted our son, who was barely one at the time, to experience a little bit of the festive spirit that I was familiar with. That which involved the fun of decking up Christmas trees and of course, the thrill of gifts from Santa Claus!
That's how we discovered Mather Bazaar in Ernakulam. This tiny alley in Broadway is a marketplace that comes alive every December, overflowing with all types of Christmas paraphernalia. Tinsel, stars, trees, ornaments, wreaths, fake snow, Santa outfits, fairy lights, literally everything you would need to create a jolly yuletide atmosphere at home!
We bought our first tiny Christmas tree from there, as well as every other tree we have bought since. Soon it became an annual tradition to visit Mather Bazaar to get into the spirit of the season, as the entire atmosphere in that little cosmos rang with festive cheer. Even on years where life's complications were raging away, a visit to this corner of the world was enough to brighten up the days again.
And then there were the stars. These paper lanterns are so ubiquitous of Christmas in Kerala that there are entire stores dedicated to them during this season. The designs vary from simple monochrome five point stars to multi-dimensional glittering works of art with trendy names. And though it is the paper lanterns that are most popular, one can still find traditional stars made of white cloth and wooden sticks that bestow an old world charm wherever they are installed.
We used to love taking a trip to Fort Kochi at this time to see the most extravagant and shimmering displays of these stars. Entire streets were laced with starry canopies, and each house competed to have the best exhibit of the year.
But what always took my breath away was a stately old tree at Veli Ground that every year would be decked with a haphazard regalia of stars and fairy lights on its huge sprawling branches. I was fascinated by how in the night, the random twinkling lights that peeped through the thick foliage would actually make the grand old tree look like it was slowly and daintily twirling around like a ballerina.
Christmas is now as much a part of my kids' childhood as it is mine. And as 2018 fast approaches its end, I can sense the yearning for Kochi grow within me. That's when you know a place has officially made itself your hometown I guess – when it starts calling you home for Christmas.