Kerala: Christmas Eve And Beyond
Text: Major General Jacob Tharakan Chacko, SM (Retd)
Walter Mendez would have definitely received divine help in coining the enticing phrase 'God's Own Country' for Kerala. The lush green, wet canopy over the state, countless virgin beaches on Arabian Sea coast, its fertile land and a conducive climate might be inadequate to justify the tagline 'God's own country' for Kerala. Home to countless places of worship, each one a work of art by master craftsmen, Kerala is home to many Gods and their devotees. Peaceful coexistence of many religions and their subsects in such a small place makes Kerala, truly God's own country. Like Onam, a predominantly Hindu festival, celebrated by all Keralites, Christmas celebrations in Kerala, transcends religious boundaries. This unique inter-religious reach out may be the most defining attribute of Kerala that confirms Kerala's status as God's own country.
Preparations
Kerala is home to a large number of Christian denominations, each with its own liturgy. Some of these homegrown Christian denominations have strong foothold in foreign lands. Irrespective of the denominations that Christianity follows, Christians celebrate Christmas in an atmosphere of gaiety. Churches and Christian households start transforming themselves from the third week of December. Not to be outdone,shops, malls, restaurants and almost all business entities join the bandwagon. The infectious makeover is complete by 24th December. It's truly remarkable to see the nightskies above the landscape of the state transforming over the week with countless glittering stars and decorative lights. This festive look will outlast Christmas into New Year. This is compelling enough a reason for an explorer to visit Kerala during Christmas. The styles and patterns of decoration on display are peculiar to areas and regions. It will be practically impossible for a touris, to see all that from North to South in a single Christmas season.
Plum Cakes Like Nowhere Else
Kerala is home to its integral brand of plum cakes.
Nowhere in the world can one find a replica of the special cake that is baked and sold in hordes across Kerala during Christmas season. Raisins and dry fruits, soaked in the chosen alcohol like wine, rum, or brandy is a key ingredient. Home-made plum cakes can be a heavenly experience for those who can manage to visit Christian households. Many traditional families are in possession of a combination of ingredients, often passed on from the matriarch to her daughters and daughters-in-law that make their cakes unique. Though the market would be flooded with many brands of plum cakes, home-made plum cakes have nothing in parallel.
Carols
During Christmas season, Kerala comes alive with a large number of carol groups that visit homes in their localities. While churches undertake carol visits to the parishioners' houses, many local clubs, organize carol services and visit houses in the locality irrespective of their religious affiliations. These groups belt out devotional songs proclaiming the arrival of Infant Jesus. While the quality of music may leave much to be desired, the inherent energy levels are invigorating.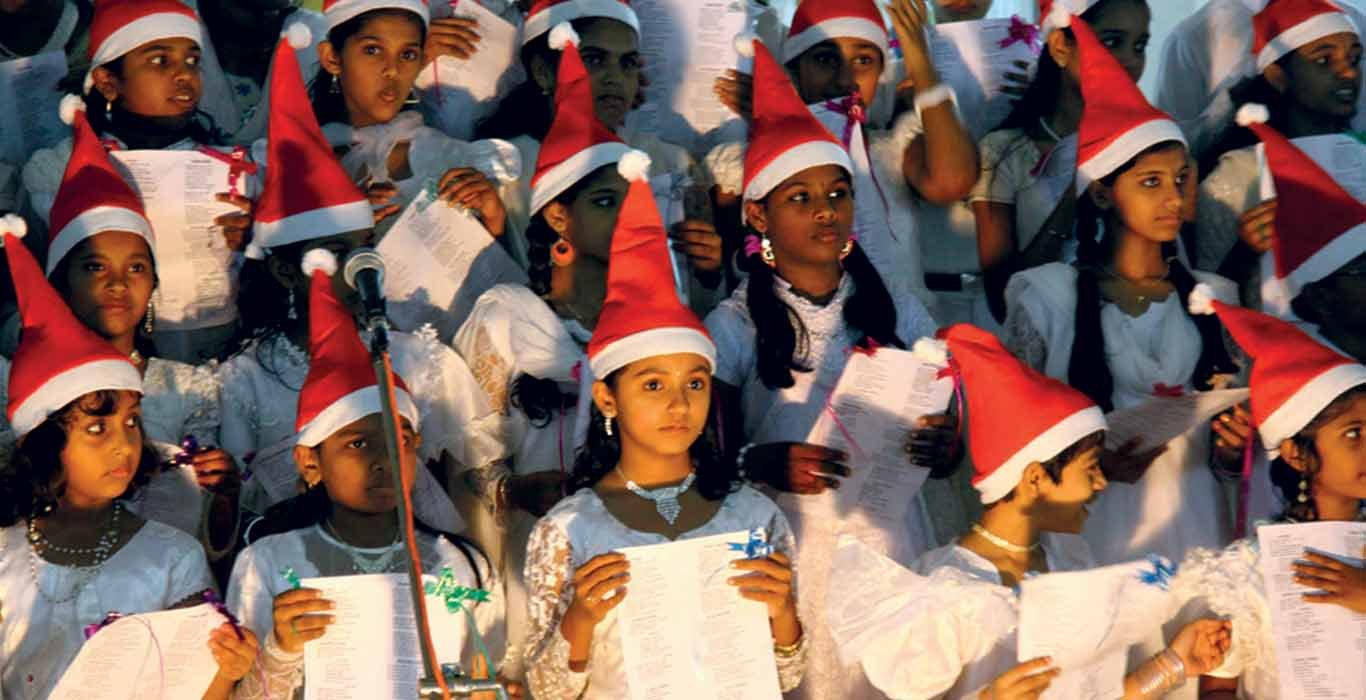 It should not be difficult for a tourist with good intentions to join one of these groups and be assured of firsthand knowledge of local traditions besides goodies that one gets to eat during home visits.
Christmas Appoopann
It is normal for carol groups to have amongst them a 'Christmas Appooppan', the Keralite Santa Claus.
Since copying Santa is not yet violative of intellectual property rights, Kerala has its own version of Santa referred to as 'Christmas Father' or 'Christmas Appooppan', scantly resembling his western cousin just in the mask and robe. It's a common practice in the local parish for someone to assume the role of 'Christmas Appooppan' and accompany the Carol visiting homes. In olden times when everybody knew each other in the parish, 'Christmas Appooppan' would strike up conversation with the family members during the visit and offers solace to anybody in need or in grief, advises the youngsters at home and offered hope for future. The pace of modernisation and resultant mobility of population has taken away the homely touch but the practice continues.
Church Activities
Keralite Christians normally undertake the 25-day lent for advent prior to Christmas. With restrictions on eating meat and dairy products during lent, Christians are mandated to spiritually cleanse themselves to receive Infant Jesus. The period of abstinence concludes with the midnight Church service across Kerala. Though there are no historical links to reason why the services are held at midnight, it is believed that midnight service commemorates the declaration of the birth of Jesus to the shepherds by the angel. The two most important events in Christian calendar are the Christmas Holy mass and the Easter Holy Mass the former about advent and the latter marks the culmination of the Passion Week. Since there are no restrictions on entry to any church, participating in the midnight mass maybe a lifetime experience for one exploring Kerala. While footwear is restricted and ladies are expected to cover their heads in the church, there is no prescribed dress codes, being appropriately dressed may be appreciated.
Feasting Post Fasting
Feasting associated with Christmas celebrations is an event in itself. If Onam feast is an extensive vegetarian spread, Christmas celebration is an equally lavish nonvegetarian spread. Starting with 'Appam' (Hoppers) accompanied by varieties of meat stews for breakfast, followed by lunch and dinner lavished with meat and seafood, Christian households are places to be in for those who are foodies. Amidst these elaborate meals one can splurge on plum cakes and homemade wines. Each household has its own way of preparing dishes and traditional families have adopted modern cooking implements to deliver age-old tastes. Food lovers may do themselves a favour by stationing themselves at 'Homestays' and restaurants that serve traditional Keralite non-vegetarian fare. The magic of Kerala spices can be best internalised first-hand, if one can manage entry into a Christian kitchen during Christmas.
Festivities and Shopping
Christmas is not only about dining. One can get the best out of shopping in Kerala during Onam and Christmas as the best deals are rolled out during these festivals. With the range of elegant sarees and gold ornaments available in countless exclusive showrooms across Kerala, one can spend days choosing and buying.
Early Bird Advantage
Considered the best for the cost, Kerala is flooded with tourists during Christmas and New Year. Hotels, house boats, resorts, homestays and backwater facilities are packed. In such a scenario the early bird normally enjoys tremendous advantage. If one has lost the opportunity to book oneself into a facility, there is no need to fret about it provided one is willing to call up an old Malayalee friend and revive old memories. Malayalees are a great race and will open up their house and heart for you.
The period of abstinence concludes with the midnight Church service across Kerala. Though there are no historical links to reason why the services are held at midnight, it is believed that midnight service commemorates the declaration of the birth of Jesus to the shepherds by the angel.