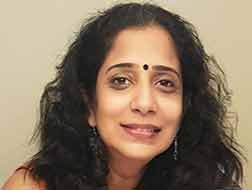 Movie Connections: Nandini Valsan
We Malayalis love our movies. That's a simple fact that cannot be denied. Am not just talking movie stars here, although of course we love them too, but at the end of the day, it is the love for the actual celluloid experience that shines bright more than anything else. Which is why script based movies like Kumbalangi Nights still garner as much adulation and support from the Malayali audience as the superstar based blockbuster Lucifer.
For NRKs like myself who grew up in the 80s and 90s, Malayalam movies played a huge role in connecting us with our roots, thanks to the now defunct video cassette. Even in my childhood home, Cairo, where the Malayali population was restricted to 10 – 15 families at the most, it was often the love for movies that formed a crucial bond between all of us.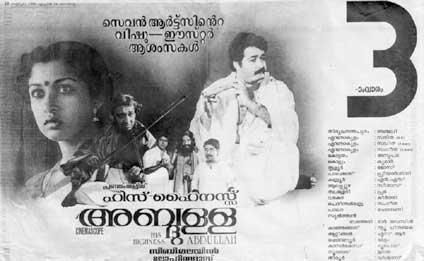 Every year when my family made our annual trip back to Kerala, we would pick up the latest Malayalam video cassettes on our layover in Dubai. These precious VHS cassettes would travel with us throughout our two month long break in India. At each home, we would gather with our relatives and watch the movies. By the time we returned to Cairo, we would have seen the movies around 5 or 6 times each!
Of course, on the return layover, we would pick up even more cassettes. Just as eager to access the tapes were the rest of the Malayali clan in Cairo, and many a political issue have arisen over who got first preference when we shared them. Likewise others who returned from India would also bring back tapes and in this ongoing process, all of us stayed up to date with the latest movies.
This watching and re-watching of movies contributed immensely to the development of my Malayalam language skills. My comprehension of the spoken language strengthened, along with the ability to discern all the different slangs of Kerala. On one of our trips to Kerala, my cousin taught me the Malayalam alphabet, and after that I got regular practice by reading the titles at the beginning of the films. My brother's Malayalam in particular was directly influenced by film dialogues that he very easily mimicked, to everyone's entertainment.
While the luxury of VHS tapes allowed us to catch up on films that we had missed while away, when we were in India, one of our biggest treats was going for films in the movie theatre. That thrill of sitting in a dark hall, surrounded by strangers focused on the same visuals and sounds streaming out in front on the silver screen; often laughing with you, crying with you, sitting in suspense with you, and sometimes just getting downright bored with you, is an energy that one just cannot get sitting in front of a TV at home, however big it is.
For us, it did help that the Sindhu Theatre was just a five minute walk away from our home in Irinjalakuda. Some of my earliest memories of viewing films in a theatre were in Sindhu, including what would later become cult classics, like Thoovana Thumbikal and Boeing Boeing. This theatre, originally built by my family, initially bore the name Konni Theatre, after my great grandfather whose brainchild it was. He died during the construction stage itself, leaving his son-in-law (my grandfather) to complete the project and run the theatre. In fact, my father and uncles were all involved in the day to the day running of this theatre, during their high school and college years.
Yes, CINEMA runs through my veins I guess! And thankfully seems to have passed on to the next generation as well. At a time when films are available in the thousands at our fingertips, my kids also seek out and enjoy the big screen experience. Luckily for them, even after moving to Qatar, they get the luxury of watching Malayalam films in the local theatres. In this way, they too are creating their own personal histories with the movies.
Just two days ago, as I rode into work, K.J.Yesudas' melodious baritone emerged from the radio with the song Pramadavanam from the 1990 blockbuster hit, His Highness Abdullah. In a split of a second, I was transported right out of the Qatar highway, to the ubiquitous Kerala cinema hall; with its wonky faux leather chairs, whirring fans, musty smells, and that palpable contentment of the fellow audience as we all immersed ourselves into that classic hit. Nearly thirty years since the film's release (!) and it happens every single time I hear that song! That is the power of the movie theatre experience!