The Harley Davidson Lady: Sony Mathew
Text: Sabeenose Paul
"I ride mostly at night. A ride on my Harley Davidson is my lifetime passion and when it is far off from the scorching sun and heavy traffic, it is all the more delightful", says Sony Mathew, one among the few female bike riders of Kochi. Long rides are always tempting for her. According to her, a bike ride to any favourite destination brings profound feelings. She chooses to be alone on such rides and having street food from roadside eateries adds to her thrill.
Initially, people used to stare at me when I stopped for a break or coffee, since I was solo female rider in the dark to them. But now I am a familiar face", says Sony speaking about her bike riding adventures at night. Sony's passion towards bike riding did not just spring up one fine morning. It started while she was a student. She had her first try on a Yamaha RX100 soon after she got her license. Today she has graduated to owning a Harley Davidson Street 750.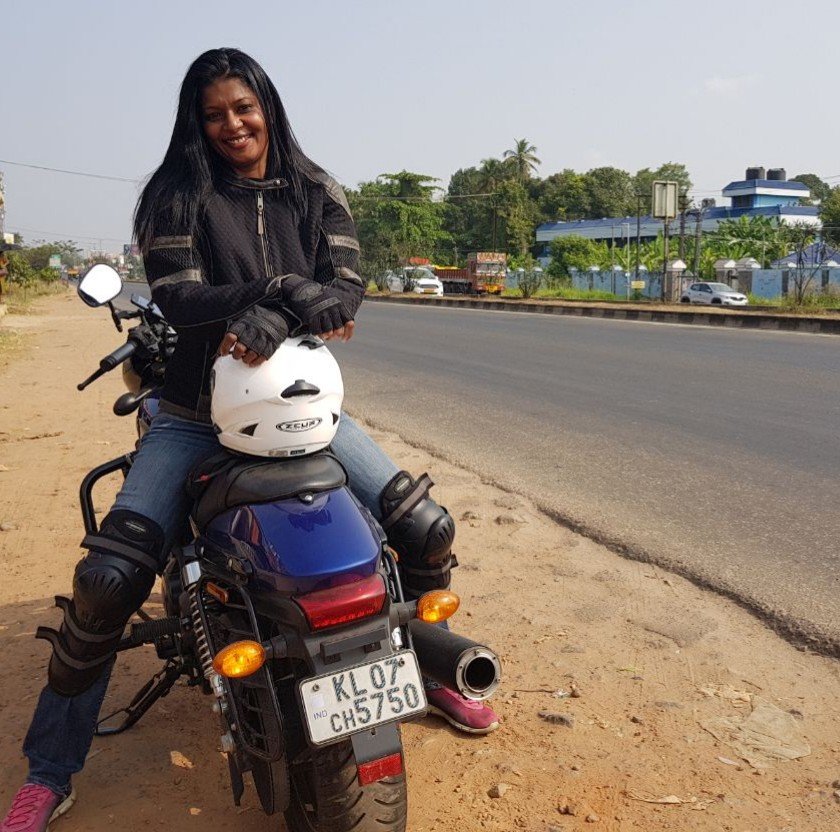 Although a dentist by training, Sony Mathew is better known as an event management professional, in the city circles. She runs a store that sells decorative items for parties and events, with particular focus on children's parties and events. She takes up the responsibility all by herself and merges as one among the team. She is sought out when the star hotels in Kochi like Le Meridien, Crowne Plaza, Taj group of Hotels, etc conduct events for children.
After getting married, Sony moved to Kuwait, where she had to be content with family chores. But, the first birthday of her son turned out to be a turning point in her life. The arrangement and decorations for the party which she single handedly did, gained much applause. That was the beginning. The guests of the day started entrusting Sony to conduct their parties and events, and Sony always delivered beyond their expectations. Although, in the beginning, she started doing events as a time pass, with numerous offers coming in, she decided to make it her profession. The business grew in no time and the client list included the royal families of Kuwait too.
Sony was always a Daddy's girl. When her father became severely ill, she flew to hometown along with children to take care of him. After, he passed away, Sony did not return to Kuwait. Initially, she thought of starting a dental clinic, but was not ready to ignore her passion for events and parties. That's when relatives and friends started assigning Sony, their family functions and she started getting orders from Gulf as well. So, without thinking twice, she gave up the idea of starting a clinic and started a party store at Kochi. For Sony, every event has to be unique in its theme, be it a birthday party, baptism, or a festival celebration.
Sony started chasing her dreams one by one, and soon bike riding became a part of her life. Once she acquired her own Harley Davidson, her travelling got a different magnitude. She started exploring in and around alone and at times along with Harley Owners Group (HOG), venturing to Bangalore, Goa and other places. Deserted places and forests are always explored in groups. Harley Davidson Owners group recently conducted a rally to Gavi. Another rally was through Athirapilly – ValpparaUdumal pettu – Munnar-via Kumily, in which she took part.
Sony started chasing her dreams one by one, and soon bike riding became a part of her life. Once she acquired her own Harley Davidson, her travelling got a different magnitude.
"We chose day time as the ride was through dense forests", said Sony. I used to go for early morning rides at Munnar and Wagamon to enjoy the snow clad morning serenity. We started by early morning by 2.00 am from Kochi, and we reached Munnar before sunrise. She goes frequently to Bangalore and Coimbatore for business purposes with her companion Harley Davidson! She immerses herself in the delightful thoughts and has endless stories of her passion to narrate.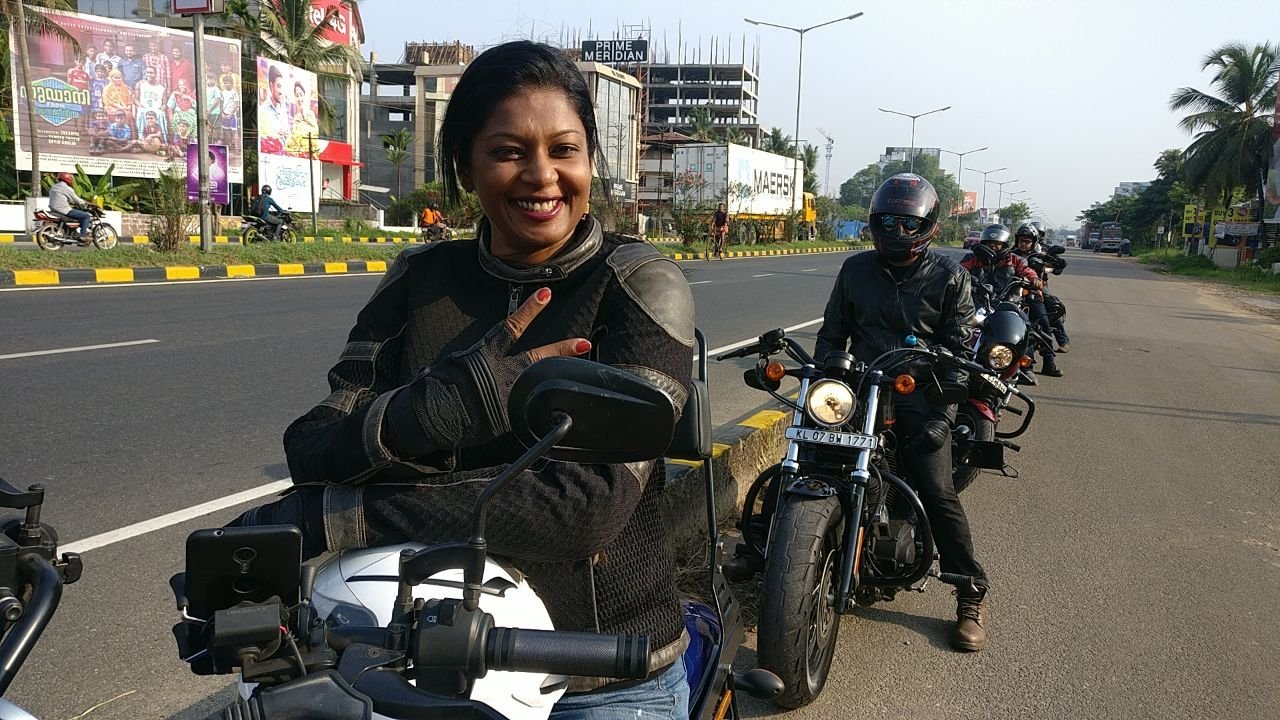 We have fewer women riders when compared to other states, comments Sony regretfully. She wants more women to come forward. She feels jubilant being an inspiration for a few. She relates the stories of two of her friends who recently started Harley ride. She thinks of it as a positive sign of change. Every bike ride fills us with new life and fresh energy, affirms Sony in the light of immense bike riding experience.