The Maverick Actor
Take a list of the hit Malayalam films of the past couple of years and one name that will constantly leap out of the credits section is actor Saiju Kurup. Right from his debut film Mayookham thirteen years ago, to the recent Theevandi, he has proved to be an adept acrobat juggling various roles and personas with ease. From the serious to the comical to the villainous, he has created a staunch fan base with a dedicated band of cheerleaders who cheer him on every inch of the way. His roles in films like Vedivazhipaadu, 1983, Trivandrum Lodge and Theevandi have left lasting impressions but it is perhaps his character of Aracckal Abu in the Aadu franchise that had the young, elderly and children eating out of his hands- thanks to his comic timing and punch dialogues. Talk to Saiju and one can understand that he knows the difference between handling his public image as well as remaining grounded to his true self. In a free - wheeling chat to Kerala Travel Explorer, Saiju talks of his early life, career and choices in life as Priya S listens in.
How did you enter the world of films or more specifically how did Mayookham happen?
A meeting with singer M G Sreekumar paved the way for my entry into tinsel-town. He told me about a project helmed by director Hariharan. So I left for Chennai and met Hariharan sir who asked me to come to the location of the film Mayookham. He had warned me about the huge cranes and jibs around and not to get overwhelmed seeing all that. I was actually not scared simply because I never thought of giving acting a shot. I also had a corporate job, so I knew I had something to fall back on. That being said, I took care to act according to the instructions given to me. What presented a challenge were the lengthy dialogues which made me tense. Otherwise the entire shoot was a breeze. I got the freedom to shape my character the way I wanted to. I got to romance; fight as well as act in the grey zone- all this in one film. Later the film was delayed and once it released, it did not meet expected projections so that saddened me for some time. I also felt may be my acting and body mannerisms could have been better. But life had to go on and I received a couple of good offers where I got to act with superstars and some others which did not do so well.

After the success of Trivandrum Lodge, I decided to be more selective in my choices. My primary criteria was that the audience should not get bored nor should I be repetitive.

Trivandrum Lodge-the film that gifted your career a fresh lease of life.
It was thanks to director VK Prakash that my character got the space it needed, which was almost equal to the lead role. Shibu Vellayani my character was the sub-editor of a sleazy film magazine and it was the comfort zone that V K Prakash provided that allowed my character to flower. I was already acquainted with him professionally through ads and a film, so I had an advantage there. After Trivandrum Lodge, my graph took an upward trajectory but I also decided to be careful about selecting my films. Mayookham and Trivandrum Lodge will always remain close to me heart
The lessons you learnt along the way?
After the success of Trivandrum Lodge, I decided to be more selective in my choices. My primary criteria was that the audience should not get bored nor should I be repetitive. I am not claiming that all my choices are the right ones but I try to do as many diverse roles as I can. I think to a large extent, I have managed to get the love of the audience which is a huge responsibility vested in me.
A villain always instills fear in the mind of an audience but the kohl eyed, sinister looking Aracckal Abu-the butcher, tickled the funny bone. That role has become your calling card.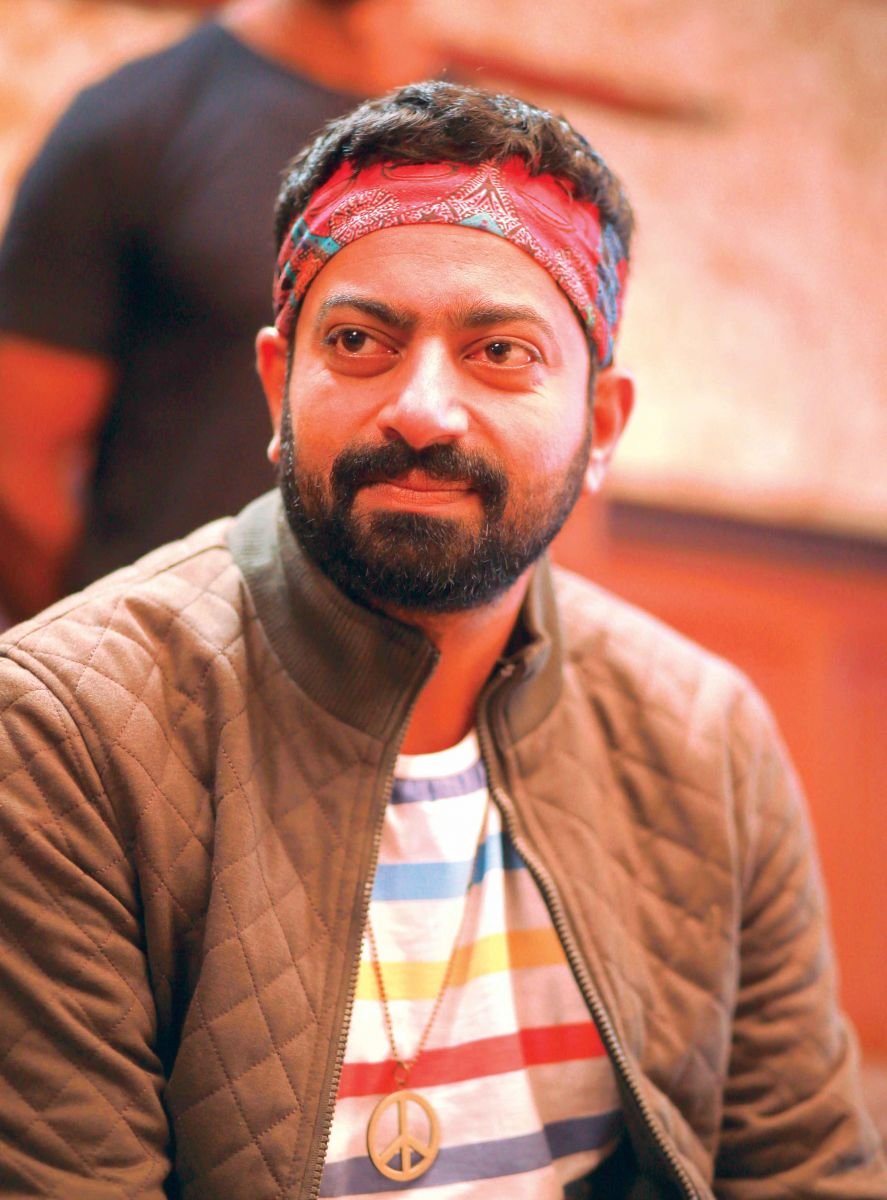 Aracckal Abu of the Aadu franchise with the tagline 'Oru bheekaran aanu, kodum bheekaran' has been a memorable role. I actually asked actor/producer Vijay Babu for a role in this film and at first director Midhun Manuel suggested another role for me. After a week, he narrated Aracckal Abu's character to me. He was supposed to be a terror and for a moment I wondered if I could pull it off. But since I had asked for a chance, I decided to take it up. I asked Midhun if any homework was needed and he just asked me to come to the location sporting a beard. Once the shoot commenced, it was thanks to Midhun's guidance that I was able to slip seamlessly into Abu's skin. The role garnered me a lot of fans and I am still Arackal Abu to the kids. Then came the sequel Aadu 2 and there I faced a dilemma. The audience knew me as the villainous butcher turned coward in the first part, so I was confused whether my body language should reflect a coward or a villain. I consulted with Midhun who suggested that a gradual change be seen from scene to scene. So I had to change my mannerisms and body language and oscillate between a coward as well as a villain which I enjoyed.
You are not adamant about playing only the lead roles. Character roles are what have got you fame. What are your criteria while selecting a role?
Keeping aside the lead factor, what is important to me is that I should find my character interesting. I look forward to playing negative shades but I have certain iron clad rules. I will not play a character who is seen molesting or raping a girl simply because I am worried about my kids watching it on screen. Personally speaking, I myself do not find such roles comfortable. I remember when as a child I used to watch actors playing such roles, I used to harbour a resentment towards them for a week. I do not want any of my audience to resent me likewise. Otherwise, be it a murderer or a terrorist, I am not averse to acting in such roles. Personally, I like playing serious roles because that is close to real life. I remember during the shoot of Annmariya Kalippilannu, I was so relaxed because that character was me in real life.
See, when I take up a role I want to fit in. Let me explain through an example. In Oru Kuprasidha Payyan, Madhupal chettan wanted me to play a diver and so I very frankly told him that I did not know swimming and that he cast another actor who did! What Madhupal suggested was that I try to learn swimming since he was not beginning the film immediately. So I decided to take the help of a friend who taught me the rudimentary aspects of swimming. Though I studied swimming for Madhupal's film, which I eventually could not take up, that helped me in the film Vimanam where I had to swim. I have this habit of informing my directors if I feel I am not fit for a role. Some may not take it in a good sense but that is the way I am! the wee hours of the morning. I never get fed up of staying in the capital, no matter the number of days. If my shoot is in the capital, I am a happy man! I also like the greenery, backwaters and food in Kumarakom. Chennai is also another place I love.
Thiruvanthapuram is my favourite place in Kerala. There is a vibe about the city that I cannot explain but can only feel! The roads are wide and the traffic is orderly. There are a lot of beautiful sightseeing places in and around the city. I especially love the food there.

What do you think needs to be done to improve the tourism sector in the state?
The road culture in Kerala is bad. If you travel to foreign countries there is a civic and good road culture there which involves waiting patiently, not honking and not showering abuses on the driver. We have pedestrian crossings here but who waits for the pedestrians to cross or gives them preference? I also practice and preach not littering our roads. I ensure that I set an example to my kids by not littering the roads or my surroundings.
Upcoming films?
Varthakal Ithuvarre which will see Siju Wilson turn a hero in which I play a police officer. I am also acting in the B Unnikrishnan-Dileep film Kodathisamaksham Balan Vakeel where I play a magistrate for the first time. Also in hand is a Biju Meon-Prajith film, as well as a film opposite Sunny Wayne titled Pidikittapulli where I play a comic character. I want to be a producer someday which I feel is easier than being a director.
You have acted in Tamil? So any new plans there?
I have already acted in four Tamil films but currently I am getting a lot of diverse roles in Mollywood which leaves me with no time at all. I even find it difficult to squeeze in time for my family with my schedules. I have no interest in the rat race nor do I wish to run after money so much so that I neglect my family and myself. I try to relax and balance my life.