The Quintessential Beauty: Anu Sithara
Her face can launch a thousand ships and her very eloquent eyes speak a thousand stories. Anu Sithara epitomises the quintessential Malayali woman who most men want to bring home as a bride. If you manage to look past her stunning beauty, one can see several layers emerging. She is a talented, trained classical dancer. In fact it was one of her stage performances that paved the way for her entry into Mollywood. She did not disappoint and very soon grew to be a name to reckon with, clinching some coveted awards for her performance in her breakthrough film Ramante Edanthottam, directed by Ranjith Shankar. It needs to be highlighted that Anu achieved all this with a 'married woman' tag when marriage is projected to spell doom for a female actor's career. The ravishing Anu opens up about her life, dance and aspirations to Priya S.
The beginning of your career?
I entered the industry through the film Pottas Bomb, after my interview for a dance performance was noticed. I remember being tensed during my first take for the film and recall asking my co-actor Vishnu Unnikrishnan for advice. He along with my other co –actors were very supportive. Though I had a small role, I could deliver a good performance thanks to the encouragement and support I received. From there I am 18 films old now and have shared the screen with most of the A listers of tinsel town like Mammootty, Dileep, Jayasurya, Kunchacko Boban etc. Sharing work space with each of these actors has shaped my outlook to acting and cinema and given me a lot of experiences.
Does your journey feel like a dream?
Like a large majority of the population, I only nursed a dream to act in one good film though it was never a driving goal. Soon that dream turned to reality and one film followed the next till Ramante Edanthottam became the game changer. That was a film that came unexpectedly to me.
Playing the strong and sensitive Malini in Ramante Edanthottam?
This is a film that I count as one of my favourites. I had to walk a very fine line as a wife, mother and woman. When I first heard the story, I was unsure if I could pull it off. I had my reasons because this was a female centric film driven by my character and if I could not pull off a nuanced and balanced act, my character and subsequently the film may not have worked. It was a character with a lot of shades and I did not want any mistakes to happen from my side and hence I was tensed. But I also did not want to let go of such a strong character. Finally the decision was taken out of my hands by my husband Vishnu who said 'yes'. Looking back I am so grateful for that 'yes' that changed my career graph. While on the sets, director Ranjith and my other co –actors as well as technicians were very encouraging which made it possible for me to put my all into fleshing out Malini. I learnt a lot of aspects about acting through this character.
The experience of playing the real life character Anitha in the film Captain?
This is another character which is close to my heart. Playing Anitha was a very emotional experience for me! I was again tense while playing this character because it was based on a living person. I spoke to Anitha chechi and her words gave me a fresh perspective on how to go about playing the reel Anita. It was a film where everyone put in their best which was evident when Jayasurya got the State award. If memory serves me right, I had even told him that he might get an award for his portrayal.
Balancing dance and films?
This is a question I am often asked. Though my dance performances have largely remained unaffected, what I miss out on is practice time. I do not get enough time to practice before any stage show due to my acting commitments. What is also true is that it was after turning into an actor, that I started getting bigger stages to showcase my dancing prowess.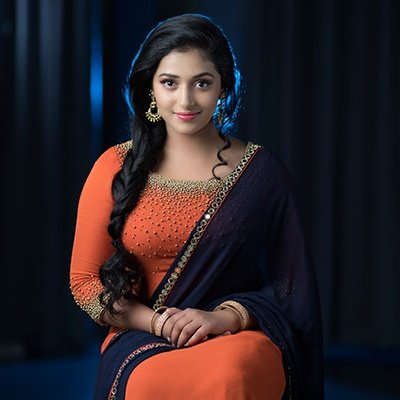 I do not believe in comparing places or countries and belittling one over the other. Each place, irrespective of its faults, offers unique experiences. It is that 'unique' aspect that gives a sense of freshness to the visitor. What I wish is that people develop civic sense and not spit or dirty a place.
Your favourite destination in Kerala?
No second thoughts there; it will always be my hometown Wayanad! It is so beau - tiful and a place where I feel a great sense of belonging. Everything there is so green and nature is at her bountiful best here.
What do you think needs to be upgraded to attract tourists to Kerala?
I do not believe in comparing places or countries and belittling one over the other. Each place, irrespective of its faults, offers unique experiences. It is that 'unique' aspect that gives a sense of freshness to the visitor. What I wish is that people develop civic sense and not spit or dirty a place.
I do have a wish that an amusement park comes up in Wayanad which would attract more tourists. Otherwise the land is abundantly blessed with moun - tains, rivers and forests and a park on a major scale would help locals as well as tourists enjoy. I for one would surely be a regular if such a park does come up.
What is a constant in your purse?
Of course, my mobile phone which has become a life saver and a necessity and obviously the charger. I also would almost always carry a pen too.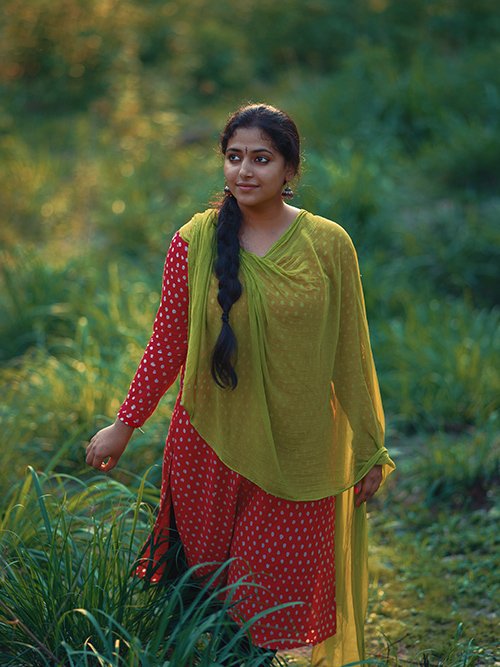 You are a natural beauty and wearing too much of make-up does not appeal to you.
I use make-up very sparingly as I have sensitive skin. Too much of cosmetics tend to play havoc on my skin, so I often apply just the bare minimum of cosmetics.
In an industry known for cat fights, you share a very endearing relationship with Nimisha Sajayan. She recently won the state award too. The bond you both have?
I was with Nimisha when she was declared the state award winner. Our friendship goes back to the time when I met her on the sets of Oru Kuprasidha Payyan. I do not get close to people, though I like to talk to everybody. Often I do not even renew my contacts after I finish a project. On the sets of Oru Kuprasidha Payyan, I went to meet Nimisha and within moments it was like we knew each other for ages. We were soon on back slapping terms and got close real fast. We take videos of each other and pull each other's legs. The best part is that though we did not constantly keep in touch after the shoot, we made it a point to meet up when in town. From there developed a deep bond so much that she became like a member of my family. We call each other's mothers as 'Amma' and the friendship is one I cherish. Of course we also fight when we express views frankly and that has also added to our bond. I am so happy for her state award.
Upcoming Projects?
I have Salim Ahamed's And the Oscar Goes to, Mammootty starrer Maamaankam, Dileep starrer Shubharathri etc.
--------------------------------------------------------------------------------------------